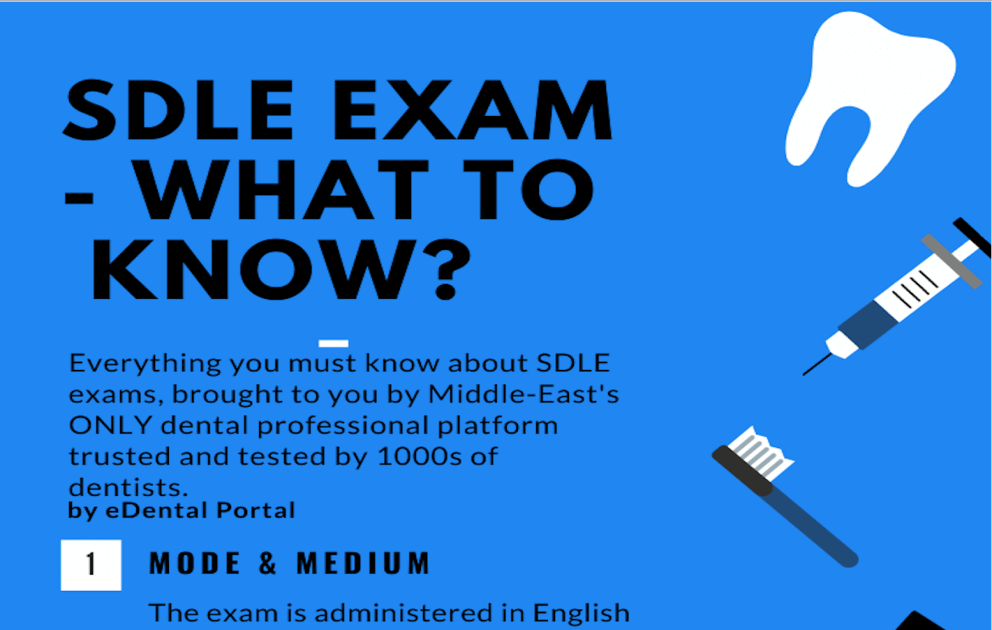 SDLE Saudi Dental Licensing Exam: Everything you need to know!
On 05-02-2021 | Read time about 6 Minutes
---
What is Saudi Dental Licensure Exam (SDLE)?
If you intend to practice in Saudi Arabia or get admitted to a postgraduate training program at the Saudi Commission for Heath Specialties (SCFHS), then it is Mandatory that you sit and pass the Saudi Dental Licensure Examination (SDLE).
Who is eligible to give the SDLE Saudi Dental exam?
To apply for the Saudi Dental Licensing Exam (SDLE), you must have a recognized primary degree (BDS or equivalent) from an accredited health science program and commenced training the internship year (for Nationals) and a minimum of 1 years of experience (after 1 year of internship) working in private clinic or hospital (for Foreigners), and 5 years of experience if you wish to work in the Saudi Ministry of Health (for Foreigners).
SDLE Dental Exam Exam pattern or Exam format:
It is a six-hour examination of 300 Multiple- Choice- Questions (MCQs).
The exam is divided into three parts of 100 questions each (total of 300 MCQs) with time allocation of 2 hours for each part.
There are two scheduled breaks between the first part and second part, and between the second and the third part, with a total break time of 45 minutes to be divided between these two breaks based on candidate preference.
The exam pattern and pass score for Specialist SDLE exams are different which can be found here.


SDLE Dental exam Syllabus:
| | |
| --- | --- |
| Section | Weight% |
| Oral Medicine/ Oral Surgery | 15% |
| Periodontics | 18% |
| Orthodontics/Pediatric Dentistry | 10% |
| Restorative Dentistry | 40 % |
| Endodontics | 17% |
| Total | 100% |
Notes:
Common to all will subject areas will be: Local Anesthesia; Professionalism and Bioethics; Infection control and patient safety.
Restorative Dentistry comprises of Prosthodontics and Operative dentistry.
To practice few past SDLE Dental exam questions for free, click here and choose SDLE from the list of exams.
SDLE Dental exam Fees:
Please click here to see the detailed break down of fees and related notes for SDLE exam
SDLE Dental Exam: How to apply?
Using Dataflow services, complete verification of all certificates

Create a new mumaris plus account by clicking here
Click on Sign Up button at the bottom of the box.

Enter first name and last name exactly similar to your iqama ID/Passport ID.

Enter email ID and click confirm.

Type a password 8 letter, and reconfirm it.

You will receive an mail confirmation on the email ID your provided.

Click on 'activate account' on the email to complete actiavting your account.

Sign in to your account using the email and password.
Using the mumaris plus account, Click on Start Classification
Then choose 'Professional Classification' from the list and start by completing the application and uploading the necessary documents. In about a month's time, an eligibility number will be issued by SCFHS as to schedule your exam. The eligibility number is unique to you and allows you to sit the appropriate test according to your qualifications and experience as to be licensed to practice in KSA.
Finally, use the eligibility number on the Prometric Website to schedule your exam.
• Ensure that you have no gap in your professional practice before applying. If you have been out of practice for two consecutive years or more, please apply for issuing a training letter service.
• In case you did not complete the application requirements within 30 days of submission, the application will be closed.
• The professional classification is valid for one year for professional registration purposes. Exceeding the period mentioned will obligates you to apply for re-classification service therefore you can apply for professional registration service.
How many times am I eligible to take the test?
A foreign candidate is allowed three attempts to pass. If you have not passed the first and second attempts, you may apply to SCFHS for a reactivation of your eligibility number for a third and last attempt.
Typically, your eligibility to take the exam lasts for three months from the eligibility issuance date. During this time you are entitled to take the same exam twice. If your three-month period has expired, you must contact SCFHS to determine whether your eligibility period can be extended.

SDLE Dental exam results and pass score:
Test results will be available online 2-6 weeks after the testing, made available in Mumaris plus. The recommended pass score for SDLE is 542 on 800. This means you must get roughly 68% of all the questions correctly answered. Start solving Saudi Dental past exam questions by clicking here
Preparing for SDLE Saudi Dental Exam:
Since the SDLE exams are computerised, it is best recommeded that you practice and learn using an online application. One of the most commonest challenges, candidates attending SDLE dental exam is the head-ache and distraction they undergo due to the need to focus on computer screen for extended hours.
If you are someone who do not work on computer screens for much time, it is best you get used to working on a big screen well ahead of your exams. Preparing using an exam simulated software will help you familiarise with the exam flow, well ahead of your actual exam. eDental Portal has saudi dental exam study material (SDLE Question Bank) with a collection of more than 2700 questions, which is comprehensive and intuitive. Having everything you need in one place, presented in distilled condensed form will help you prepare for your exams in a shorter time productively.

If you have already prepared for your exams, you can still test the quality of your preparation and familarise with the exam software using our SDLE Mock tests. eDental Portal Mock tests are not quizes, but our application closely mimics the software application the Saudi Commission for Heath Specialties (SCFHS) and Prometric uses in administering the exam. To use eDental Portal Dental Mock tests click here.