Clinical attachment, Training, Internship in Dubai
On 08-03-2021 | Read time about 6 Minutes
---
Clinical training is available for healthcare professionals in the Emirate of Dubai where gaps or break in practise are identified. Clinical training may be provided for the following groups of professionals:
a. New graduates
b. Healthcare Professionals who require additional experience to obtain DHA license (check Residency Program below)
c. Healthcare professionals with gap or break or discontinuity of practiced. Advanced Clinical Training
Break or gap in practice for DHA, DOH (HAAD), MOH exam
Non UAE nationals will not be able to apply for a license if they have a gap of clinical practice for more than 5 years (and more than 10 years for UAE nationals). If the years of gap in experience in less than 5 years, then a prescribed number of CPD points or training is recommended to apply for exams and license. Find more information on training programs in Dubai here
Years of Gap or break in Practice
Prescribed training period required

From two to less than three years

40 CME/CPD credits
4 months of training

From three to less than four years

80 CME/CPD credits
6 months of training

From four to less than Five years

120 CME/CPD credits
8 months of training
Attachment/Placement:
The minimum period of attachment is 2 weeks and the maximum is 12 weeks in one year.
Fees
Application Processing -260 AED
Clinical Attachment/Work placement Training – 75 AED for each working day
To apply for Clinical Attachment / Work Placement at DHA, please follow the steps
Register with Meducation.ae

Login with your account at meducation.ae.

Update your profile information:

update your profile picture with your photo.

update your profile adding your Qualifications , Experience with proofing documents if applicable.

add personal documents needed for Clinical attachment to your user profile as below:

Updated CV.

Good Standing Certificate:

If you are a student, provide updated letter "To Whom It May Concern" from your University.

If you are an employee, provide updated letter "To Whom It May Concern" from your Employer.

Other wise, provide updated "Police Clearance Certifcate" from relevant Ministry of Interior Agency /Police Department/Equivalent.

Passport copy.

Visa copy: illustrates that the applicant has permission to stay in the UAE for the duration of the clinical attachment / work placement.
Dental Internship Program
Dubai Health Authority provides Dental internship program once a year. The announcement and registration program is posted on DHA website. Dental Internship is available for all nationalities with the priority for UAE nationals, GCC nationals.
Application Process:
Step 1: Applications are required to be submit online on the following DHA portal https://www.dha.gov.ae/en/Pages/DHAHome.aspx with the following requirements:
Updated Curriculum Vitae.
BDS/DDS Certificate with Transcript – Copy.
Passport Copy.
Emirates ID Copy.
UAE Registration Copy (Khulasat-El-Qaid / Marsoom of Current Year) for UAE nationals.
Step 2: Shortlisting based on candidate's Bachelor's degree grade (Score / Percentage).
Step 3: Selected candidates will be contacted to complete the Internship Recruitment Process as per Dubai Health Authority routine.
This program begins roughly in November every year.

DENTAL RESIDENCY PROGRAM
If you do not have sufficient clinical experience in dentistry or had a gap in clinical practice of more than 2 years, enrolling on this program is a valid route to gain experience and be eligible for UAE exams.
The Dental Residency allows newly qualified Dentists to obtain knowledge and experience in all aspects of Dentistry. Rotations range through General Dentistry, Oral Surgery, Periodontics, Pedodontics, Prosthodontics, Endodontics and Orthodontics with Oral & Maxillofacial on- call duties. The duration of Dental Residency Training is between 2 to 3 years based on performance during training.

Please note that these programs will require you to pay to be enrolled on it. These programs are available at University of Sharjah, University Dental Hospital Sharjah.
Latest Posts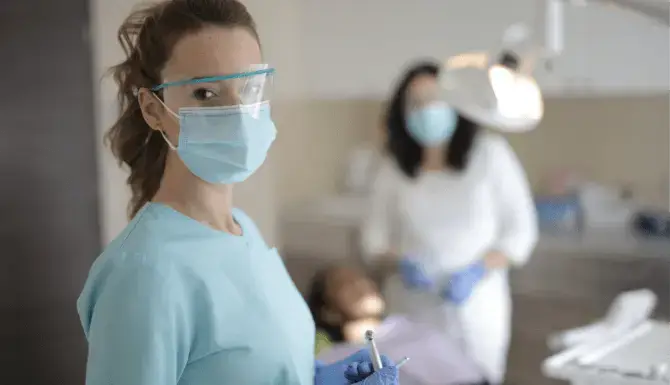 FREE PROMETRIC PRACTICE TESTS
Try out the most relevant Prometric mock test questions for Dental exams here.
ENROLL NOW