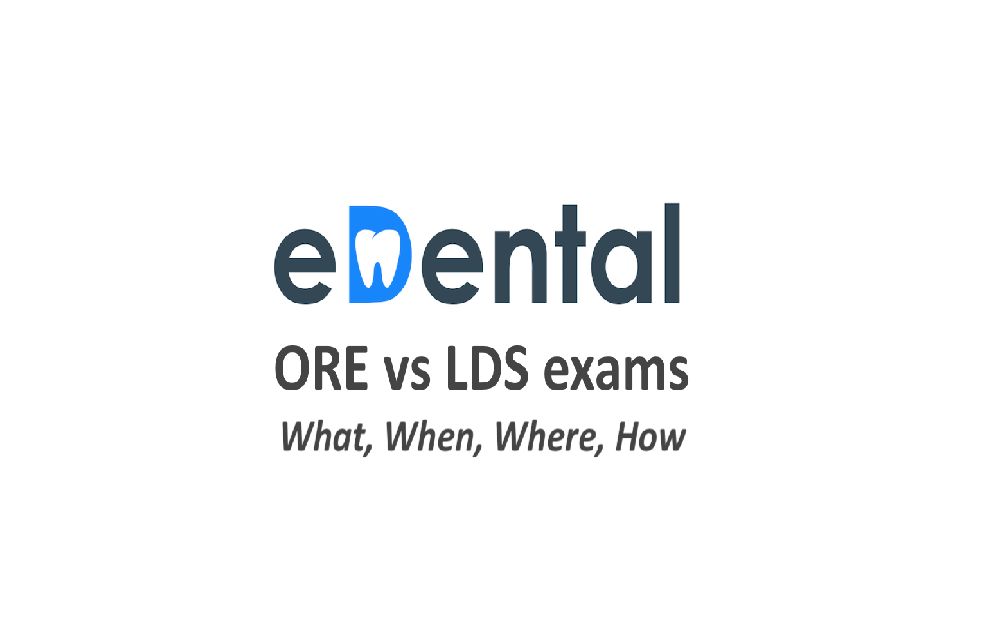 Be a Dentist in the UK- LDS & ORE exam details
On 29-04-2020 | Read time about 6 Minutes
---
Dentists are required to be registered with the General Dental Council (GDC) to practice dentistry in the UK. If your primary qualification (BDS) is from outside the European Economic Union, you will have to go through either of the two exams- the Overseas Registration Exam (ORE) or the Licensure in Dental Surgery (LDS) exam to practice dentistry within the UK.

The Royal College of Surgeons of England (RCS England) conducts the Licensure in Dental Surgery (LDS) examination and the General Dental Council conducts the Overseas Registration Exam (ORE) for overseas qualified dentists. LDS gives you post-nominal letters, as it is a degree/diploma awarded by the Royal College of Surgeons of England. Many countries accept the LDS as an equivalent exam for registration with their own dental councils. Passing the LDS exam may thus serve as a ticket to practice in many other countries, without having to give the qualifying exams held in that country. If you have high chances of not settling in one place and travelling across countries, then LDS may be the better choice out of the two for you.

After passing either one of the above examinations, one can become eligible for GDC registration and start practicing as a dentist in the UK. Persons exempt from this examination are entitled to an individual assessment, although this is not a guaranteed route to registration.
Exam format:
Both exams consist of two parts:
Part 1: Theoretical exam
LDS Part 1 is paper-based lasting 6 hours
Part 1 of the Licence in Dental Surgery (LDS) comprises of two papers: single best answer (SBA) questions and extended matching (EMQ) questions. Both Part 1 papers must be passed at one sitting for candidates to progress to Part 2. The Part 1 LDS exam is normally held at least once per year in the UK.
ORE Part 1 is computer-based lasting 3 hour sessions over 2 days. The exam takes place in London only, and consists of Paper 1 (Basic sciences) and paper 2 (Clinical sciences), which has 150 single best answer (SBA) questions each.
Includes
Basic sciences including clinically applied dental science and clinically applied human disease

Clinical dentistry (majority of questions for LDS exam)

Law & ethics and health & safety.
Part 2: Practical exam
This is a three days exam

Includes:
An operative test on a dental manikin. For this component you will require to purchase the equipment and material to practice regularly. The additional cost is approximately 3000-4000 GBP.

Objective structured clinical reasoning (OSCE)

A diagnostic and treatment planning exercise (DTP)

A practical examination in medical emergencies (ME)
These components are tested in 3 different days.
Operative test: Over a period of three hours you will be asked to primarily prepare and restore teeth, but may also include other procedures where appropriate simulation can allow assessment of operative skills.

DTP involves an actor who will provide an appropriate history, together with relevant additional information to test your diagnostic and treatment planning capabilities
Documents required:
Copy of dental degree certificate (attested by a solicitor)

A letter of good standing from your current dental council

IELTS certificate

NARIC equivalence statement.

Three reference forms that you have to get filled by either your dean or your clinical teachers to confirm that you have completed 1600 clinical hours.
To get your NARIC certificate
1. Create an online login account at
www.naric.org.uk
2. Scan and upload your degree certificate
3. Pay the relevant fee (around £50) for the statement.
You are not required to send any documents for ORE Part 2 again. All you need to do is book the exam and make the payment on time.
Application process
ORE- Online
LDS- Submission by post
Exam dates for 2022 and Booking
As soon as the booking window opens, you must book your slot almost immediately, due to the high demand for places. The exam is usually fully booked within minutes.
ORE
Once you post GDC the documents, they verify by emailing your references. Then GDC will send you an ID and password to your e-GDC account. You're then eligible to book for the upcoming exams (either April or August), and GDC will notify you every time.
Part 1- held twice a year
Dates for 2022 exams are not declared yet
Part 2 2022 examination dates:
LDS:
Part 1- held once a year in April and registrations should be made the September/October in the preceeding year through the Royal College of Surgeons website.
Part 2- held twice a year, in January (booking made in September/October in the preceeding year) and June

Fees/Costs

Part 1
ORE
There are a maximum of 200 places available at each examination period, held at King's College London and costs £806.
LDS
can accept up to 120 candidates at each examination period and costs £850.
Part 2
ORE
For each examination period a maximum of 144 candidates are able to undertake the Part 2 exam. Part 2 costs £2,929 per candidate, paid at the time of booking.
LDS
Accepts a maximum of 60 candidates. LDS Part 2 costs £2,940 per candidate.
Visa
Once you have cleared the exams, you may need a Visa sponsor to sponsor your Tier-2 work visa. If you are aware of a dentist from the subcontinent, now working in the UK with that visa, it helps and will be easier, especially now after the Brexit.


Qualified/UK- Registered Dentists
Newly qualified dentists (by passing one of the above exams in both parts) who want to work in the National Health Service must undertake dental foundation training (similar to house job, but done at a dental clinic) for one year, for which the annual 2019/20 salary is £32,050. This allowance is set through the General Dental Services Statement of Financial Entitlements Directions issued annually by the Department of Health (England, UK).
Latest Posts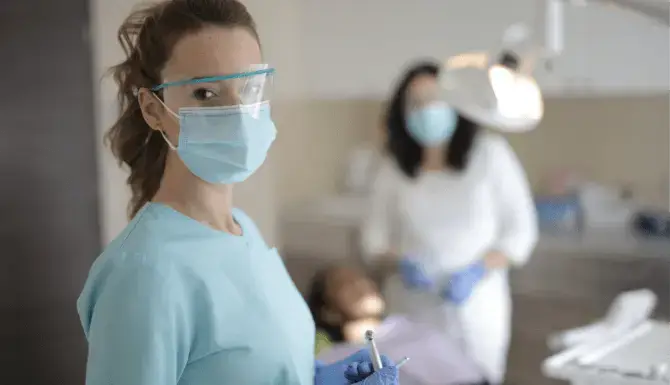 FREE PROMETRIC PRACTICE TESTS
Try out the most relevant Prometric mock test questions for Dental exams here.
ENROLL NOW