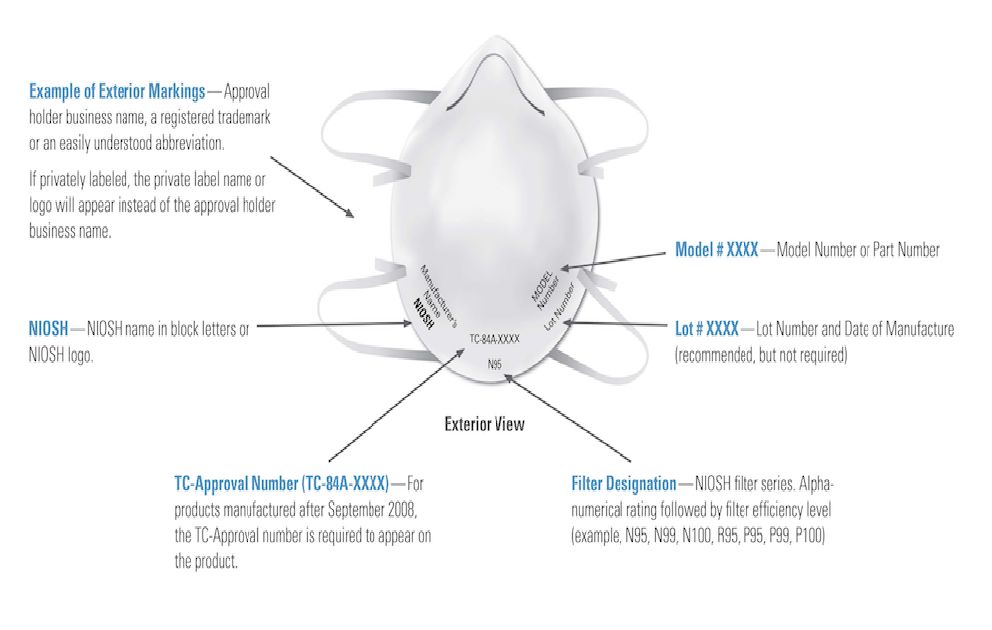 Identify fake N95 masks and respirators
On 09-05-2020 | Read time about 6 Minutes
---
Respirators (N95/KN95, N99, FFP1, FFP2 and FFP3 Masks) that may not be capable of providing appropriate respiratory protection to health care workers are being falsely marketed and sold as being FDA certified and/or NIOSH (National Institute for Occupational Safety and Health) approved. In the month of April, 39 million masks were exposed as fake.
Making sense of the numbers on the mask:
The letters and numbers are standards for masks. They specify the rules and testing methods companies should follow to rate their masks.
FFP1 is a standard used across Europe for masks that have filtration effectiveness of 80%, while FFP2 is a standard used across Europe for masks that have filtration effectiveness up to 94%. Similarly, N95/KN95 is used across the USA, with filtration effectiveness of 95%.

| | |
| --- | --- |
| RESPIRATOR STANDARD | FILTER CAPACITY (% of particles 0.3 microns or larger in diameter filtered) |
| FFP1 and P1 | At least 80% |
| FFP2 and P2 | At least 94% |
| N95 | At least 95% |
| N99 and FFP3 | At least 99% |
| P3 | At least 99.95% |
| N100 | At least 99.97% |

For FFP1/FFP2 masks, it is vital to ensure that any certificates you receive are correctly titled 'EU type examination certificate' and that they are issued by a competent Notified Body. The identification number of the Notified Body must also be included in the EU type examination certificate. A full list of Notified Bodies is available on the NANDO database. You can also check the authenticity of certificates through the BSI Certificates and INSPEC Certificates portals.

For NN95/KN95 masks, before buying large quantities of respirators from third party marketplaces or unfamiliar websites, learn how to identify NIOSH-approved respirator:
An abbreviated approval will be on the packaging as well as the mask/respirator itself. You can verify the approval number on the NIOSH Certified Equipment List (CEL)
An authentic N95 mask has markings as shown in the image above. Check for these labels at standard locations of a certified N95 respirator.

3M 8210 is the most classic and popular N95 disposable respirator. It provides at least 95% filtration efficiency of non-oil based particles with NIOSH (National Institute for Occupational Safety and Health) approval.
On the bottom of 3M product box, just under the bar code or on the roll, you'll see a 10-digit secure code and a 6-digit lot code. These codes are unique to every box. Enter your codes
here
. A green checkmark means the product is genuine. A yellow or red symbol indicates that your product may be counterfeit.
Warning signs that a mask or respirator may be fake/counterfeit:
No markings on the facepiece of the mask
No NIOSH approval (TC) number on the N95 or headband
No NIOSH markings
NIOSH spelled incorrectly
Presence of decorative fabric or other decorative add-ons (e.g.,sequins)
Claims that the mask is approved for use in children (kids)
The N95 mask has ear loops instead of headbands
FDA logo on the box- FDA does NOT allow a vendor to put the FDA logo on the box of a respirator.
FDA registration certificate as proof of "FDA approval"
Other possible signs on third party marketplaces/websites:
The seller/dealer doesn't have any transactions history or public review/feedback
Too good to be true statements or price deviations
Suppliers claim that the mask is 'FDA approved' - FDA doesn't approve N95 masks. Official companies use the term 'FDA-cleared'.
Bad grammar, typos, and other errors
Primary email the dealer uses a free email service e.g. gmail
Suspicious feedback and reviews gathered over a short period of time- check dates of reviews and feedbacks.
Buyers must understand that FDA has a two step process. ANY company can REGISTER their product with FDA before getting clearance. Registration of an equipment establishment or assignment of a registration number does not in any way denote approval of the establishment or its products. Many companies mislead buyers to believe that masks are FDA-approved by submitting an FDA registration certificate as proof. FDA registration is NOT FDA approval.
Some companies known to have sold fake, counterfeit masks claimed to be N95 certified are
1. Sound
A company by the name of 'Sound' have been distributing masks that are not NIOSH approved. The company uses Shanghai Dasheng Health Products Manufacture Co. Ltd's (SDH) NIOSH approval number, TC 84A-4335, without their permission.
2. NIOSH N95 respirator mask
This is another company using Shanghai Dasheng Health Products Manufacture Co. Ltd's (SDH) NIOSH approval numbers without their permission.
3. G & F
G & F Products have misrepresentedNIOSH approval and are on sale in many Asian countries. G & F masks are not a NIOSH approved or a private label holder.
4. Maskin
Any respirators being sold as Maskin are no longer NIOSH approved. They are counterfeit or they are no longer compliant to the NIOSH approval.
5. Shenzhen Ende Medical Technology Co., Ltd.
Shenzhen Ende Medical Technology Co., Ltd. is NOT a NIOSH approval holder. Any N95 filtering facepiece respirators from Shenzhen Ende claiming to be NIOSH-approved or accompanied by these documents are NOT NIOSH approved.
Others companies selling UNCERTIFIED masks claiming to be certified:
Zubi-Ola
ViraMask N99ESC (Wein products)
FitSeal
NT-V2 Nano Bi-Directional respirator
Benehal
Pacifico Salud SAC
Ranger 821 and Ranger 821V respirators by Valpro Safety
Vogmask®
PitBull Safety Products
Anhui Tongcheng YaGe Health Materials
The Guangzhou Weini Technology & Development Co., Ltd. (GWT) respirator with model number K320
Yark
Kaku
Medicos

Companies known to not be competent for PPE (masks specifically) under European standards for FFP1, FFP2 and FFP3 include:
ICR Polska
CELAB
ECM (Ente Certificazione Macchine)
ISET (Instituto Servizi Europei Technologici)
NPS
Amtre Veritas
STS Inspection and Certification
VIC Testing and Certification
BSI Test Limited
ISP (UK Inspec International)
Ecole Supérieure du Bois
Sapo (Sapo Certification & Testing Laboratory Limited)

The above is not an exhaustive list of companies selling uncertified masks. So please use your discretion to check the product as well as the relevant databases and certification before purchasing N95/KN95, N99, FFP1, FFP2 and FFP3 Masks and respirators.

For more dental practice guidances during COVID-19, read our COVID 19: Patient & Dental Professional Safety category of posts.
Latest Posts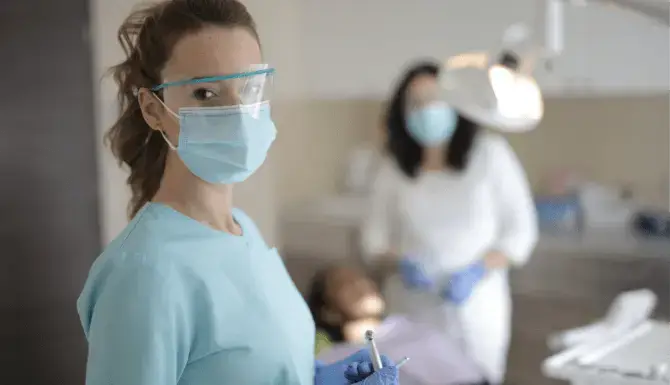 FREE PROMETRIC PRACTICE TESTS
Try out the most relevant Prometric mock test questions for Dental exams here.
ENROLL NOW