Syllabus and Books- Prometric DHA HAAD MOH NHRA SDLE QCHP Dentist Exam
The Prometric (for DHA Dubai exam, MOH, QCHP Qatar exam) and Pearson Vue (DOH/HAAD) exam is a computer-based test in the form of Multiple Choice Questions (MCQ) in English language. Questions have four options from which the candidate will choose one answer, with no negative marking for wrong answers. The exact format of the exams vary slightly across countries, the details of which are available to read by clicking here.
Since the exams are computerised, it is best recommeded that you practice and learn using an online application. SDLE exams in particular lasts 6 hours and it is best you get used to working on a screen well ahead of your exams. Begin solving past exam questions by clicking here
All of the Gulf exams provided by Prometric or Pearson Vue or those conducted by the Health Authority for General Dentists, including DHA, MOH, DOH (HAAD), EMREE SDLE, QCHP, OMSB, NHRA Bahrain cover the entire undergraduate curriculum as a part of their syllabus. Exam guidance in terms of pattern, syllabus and pass score for Specialist exams for DHA, DOH (HAAD), MOH and SDLE can be found here. Exam syllabus, Reading references and Subject weightage for exams is provided below.
Exam syllabus for General Dentist
The following areas of topics are thought to carry the most significance:
Infection control & Patient Safety
Anesthesia & Pain management
Trauma
Dentoalveolar Surgery
Implant Surgery
Dental Anatomy and Occlusion
Bioethics, Behavioral sciences
Pediatric pulp therapy
Reconstruction
Cosmetic
Oral medicine and Diagnostic sciences
Deformities and Orthognathic Surgery
Tempromandibular joint
Patient education
Ethics
The recommended list of DHA exam books is below:
Orthodontics:
An Introduction to Orthodontics, Third Edition, Laura Mitchell, 2007, Oxford: Oxford University Press.
Contempoary Orthodontics, Fourth Edition, William R. Proffit, Henry W. Fields and David M. Sarver 2006, Saint Louis: Mosby, Inc.
Operative Dentistry:
Textbook of Operative Dentistry/L. Baum, Ralph W. Phillips, Melvin R. Lund.Philadelphia: Saunders, 1995.
Fundamentals of Operative Dentistry: AContemporary Approach, Third Edition, Summitt, James B.,
Robbins, William J. , Hilton, Thomas J. , Schwartz, Richard S.Quintessence Pub. Co
Sturdevant's Art & Science of Operative Dentistry (Hardcover) by Theodore M. Roberson (Editor), Harold O. Heymann(Editor), Edward J. Swift Jr.(Editor)Publisher Mosby
Removable Prosthodontics:
Complete Denture 5th Edition By Rahn,Hartwell.
Boucher's prosthodontic Treatment for Edentulous Patients 10th ed.
Fixed Prosthodontics:
Contemporary Fixed Prosthodotics 4th edition By Rosensteil
Fundamenals of Fixed Prosthodontics 3rd Edition by shillinburg
Periodontics:
Carranza's Clinical Periodontology by Michael G. Newman DDS ,Henry TakeiDDS, Fermin A. Carranza Dr. Odont
Clinical Periodontology and Implant Dentistry
Dental Materials:
Philips Science Of Dental Materials: 11th Edn. - Kenneth J. Anusavice. Publisher: Elsevier Science
Restorative Dental Materials - 12 Edn. Robert G. Craig Publisher: CV Mosby, 2006
Pedodontics:
Pediatric Dentistry Infancy Through Adolescence By: Pinkham,J.R.,4thEdition,2005
Dentistry for the Child and Adolescent By:Macdonald,R.E.AND Avery ,D.R 8TH Edition ,2005;Mosby Co,Inc
Fundamental of Pediatric Dentistry By:Mathewson RJ,Primosch RE Third Edition,1995
Endodontics:
Endodontics By Ingel 6th edition
Pathways of the Dental Pulp 10th Edition by Cohen and Burns
Oral Medicine and Oral Pathology:
Oral Pathology A Textbook of Oral Pathology by Shafer W., Hine M.and Levy B. 4th edition,W.B Saunders Co., Philadelphia 2009 Edu.Elsevier India, New Delhi
Oral Surgery:
Peterson Principle of Oral and Maxillofacial Surgery By Peterson
Local Anesthesia in Dentistry
At eDental Portal we understand that going back to undergraduate Dentistry books is daunting and challenging. We are constantly working with Dental candidates who have passed their exams; and experienced Dentists to condense the recommended reading material to ease your preparation experience so that you can complete learning in the shortest time of just 1 month. Our varying plans offer you a condensed set of most relevant and recent questions, saving time and unnecessary effort.
We also run FREE trial runs of practice questions for all exams including DHA, MOH, (DOH) HAAD, EMREE, SDLE, QCHP, OMSB and NHRA Bahrain which will be a good place to get a feel for the questions that appear in Arab Dental Licensing exams. To access the trial questions and get a feel of our revision tools work click here
Syllabus & Subject weightage for QCPH General Dentist exam
The below given information is verified as per Prometric (the Official, exam conducting body on behalf of QCHP DHP) and correct as of July 2023
| | |
| --- | --- |
| SUBJECT | Number of Questions in Exam |
| Endodontics | 23 |
| Oral Medicine/ Oral Surgery | 41 |
| Restorative Dentistry | 36 |
| Periodontics | 20 |
| Orthodontics/ Pediatric Dentistry | 30 |
| TOTAL | 150 |
Other Related Posts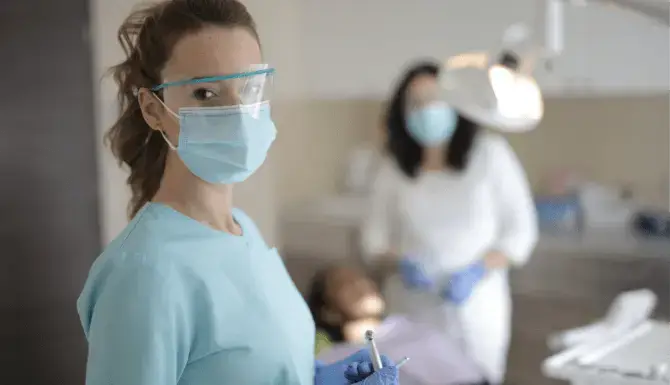 FREE PROMETRIC PRACTICE TESTS
Try out the most relevant Prometric mock test questions for Dental exams here.
ENROLL NOW