The Oman Medical Specialty Board (OMSB) General Dentist examinations are provided by Prometric testing centers across Oman and a few other countries. You do not have to travel to Oman to take your exam. Find your closest testing centre by clicking here
From the list, choose a country/state of your choice to give your exam.
Then Click next, to enter details of the state/postcode you are located at.
Hit 'Next' button for Prometric to show you the closest testing centre to the pincode/state you entered.
Eligibility
Registering for OMSB exams is open for all dentists with 3 years of experience after internship/housejob. You can go to Prometric website to book for your exam.
Exam pattern
OMSB exams is completed in two parts- first a theory component, followed by a viva component to be given once you have successfully passed the theory component. The theory multiple-choice questions, computerized examination lasts for 3 hours with 150 MCQ questions. The pass score for all OMSB exams is 60%.
MCQ exam pattern and content of OMSB exams is as below:
The majority of the questions in the Oman Medical Specialty Board(OMSB) General Dentist examinations are from the area of Restorative dentistry. This comprises of 40% of the exam, amounting to a total of 60 questions on the Exam. This will cover questions from Prosthodontics and Operative Dentistry.
The second subject with a large proportion of questions come from the area of Periodontics, with 18% of the questions from this area. This accounts for 27 questions in the exam. An equally important area to work on is Endodontics, with over 17% of the exam covering questions from this area. This accounts for 26 questions in the exam, just shy of one question from that of Periodontics.
Oral Medicine and Oral Surgery are combined to account for 15% of the exam, which equates to 22 questions.
The last and final area is Orthodontics and Pediatric Dentistry combined, accounting for 10% of exam, equating to 15 question in the exam
You can take the exam up to three times per one calendar year. Once, you pass the exam, there is a viva exam before you can start finding job opportunities.
To summarize
Prosthodontics and Operative - 60 questions
Oral medicine and Oral Surgery - 22 questions
Orthodontics and Pediatric Dentistry - 15 questions
Periodontics - 27 questions
Endodontics - 26 questions
Total - 150 questions
Oman Viva
The viva exam is held once a month for dentists at the MOH building in Muscat and lasts between 15 to 30 minutes. Every month, viva slots are offered to up to 30 candidates. You will have 4 interviewers on the panel and each interviewer will ask you a few questions. You must be well-versed with practical clinical scenarios, medical emergencies, dental drug prescribing and diagnosing from clinical photographs . For past experiences and previous viva questions, please visit this page. It is a free service and we expect that you return the favor to other dentists by sharing your experiences once you pass your viva exam.
To find out the fee structure, please visit our previous post by clicking here
Good luck!
Other Related Posts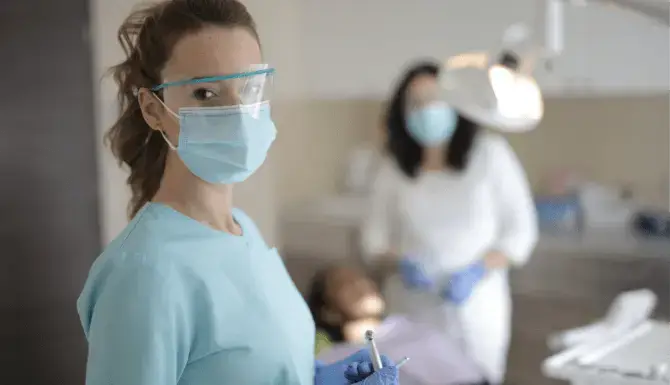 FREE PROMETRIC PRACTICE TESTS
Try out the most relevant Prometric mock test questions for Dental exams here.
ENROLL NOW